Download Phoenix Miner 5.7b - AMD+NVIDIA GPU Miner
Version: 5.7b
File: *
PhoenixMiner.exe
,
SHA256: 3a1fa39b47697402df3eaa56b0e765addeb83f244aeb80ee0bcd434ae98ba5c3
(Download for Linux)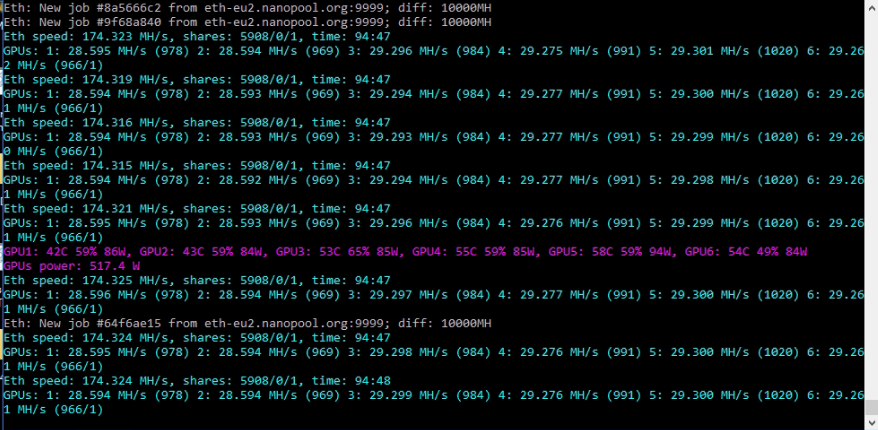 The new PhoenixMiner stable version is ready.
You can download PhoenixMiner 5.7b from here:
Inside the archive you will find a file README.txt with installation instructions.
Make sure to replace the pool and wallet address by what you're using in all files.
Changelog
Implemented new "turbo" kernels (-clkernel 3) for AMD Polaris cards that can work with the current DAG sizes over 4 GB. Note that -clkernel 3 uses double the VRAM and will provide slightly faster hashrate with slightly higher power consumption. You can use the -rvram command-line parameter to specify how much VRAM to be left unused
Increased the maximum supported DAG epoch to 600 (i.e. until about Sep 2023)
Implemented full hardware control for AMD RX6900/6800/6700 cards under Linux. Note that with these cards under Linux you need to specify relative core voltage: e.g. -cclock -50 will set the core voltage to be 50 mV under the default value
Added ROCr kernels for Vega, Radeon VII and Navi cards. With these kernels you will be able to run these cards with Linux drivers 20.45 and later but the performance will be lower than with the older PAL drivers and kernels. We recommend using AMD Linux driver 20.30 for all cards except RX6900/6800/6700
Fixed an issue causing crashing with some RX6900/6800/6700 cards under Linux (there is no need to run these cards with -clkernel 0 anymore)
Added support for AMD Windows drivers up to 21.7.2. Note that Radeon VII cards will not work with drivers 21.6.1 or higher - you need to use older drivers for proper operation of these cards
Added support for AMD Linux drivers up to 21.20 (use older drivers for Vega or Radeon VII cards as they will not work with 21.20)
Numerous other fixes and small improvements
For more robust integrity check, you can use our GPG public key, which was verifyed with ETH transaction from our main devfee account as explained here.
Here are the signatures for the files in this release:
PhoenixMiner_5.7b_Windows.zip.asc PhoenixMiner_5.7b_Linux.tar.gz.asc PhoenixMiner_NVRTC_Windows.zip.asc
Happy Mining!